2021 has settled firmly into a definitive spot on the all-time gun sales list.
As we reported this week, gun-related background checks topped 13.7 million at the end of September. That puts the first nine months of 2021 beyond what was sold in all of 2019. But it remains below what was sold by this point in 2020.
But it's possible that could change over the last three months of the year.
There are a couple of factors at play that could make that possibility a reality. The first is the seasonal nature of gun sales. We're coming out of the summer slow period and headed into the fall, where we usually see the strongest sales of the year. In fact, the upswing has already started.
"September also saw firearm sales continue an incremental month-over-month climb, with over 20,000 more background checks for gun sales than were recorded in August 2021," Mark Oliva, a National Shooting Sports Foundation spokesman, said earlier this week. "Firearm sales typically rise during autumn months as hunters get back into the woods, fields and marshes for hunting season and gun buyers take advantage of new models and holiday sales."
Last year, things were a bit different. The most significant surge in gun sales came in March and June because of the extraordinary circumstances surrounding the pandemic and the racial unrest the country experienced. Then things slowed down a bit from there.
The further we got from the lockdowns, food shortages, and rioting, the more gun sales cooled.
Of course, sales remained incredibly high since those concerns didn't completely abate (and they still haven't) while the more traditional motivator of sales came into play: politics. With Democrat and staunch gun-control advocate winning the election, that motivator increased further at the end of 2020. And with Biden pushing executive actions to broaden the authority of the ATF and outlaw millions of AR-15 pistols, the political motivation to buy guns is at a new level.
In 2020, we saw a precipitous drop in gun sales between June and September. In 2021, we've seen a slight but steady increase instead. So, I'm looking for whether things will continue to climb and overtake 2020's monthly numbers in October, November, and December.
Add in the fact that inventory across the industry is likely in a better place than a year ago, and that possibility becomes more plausible.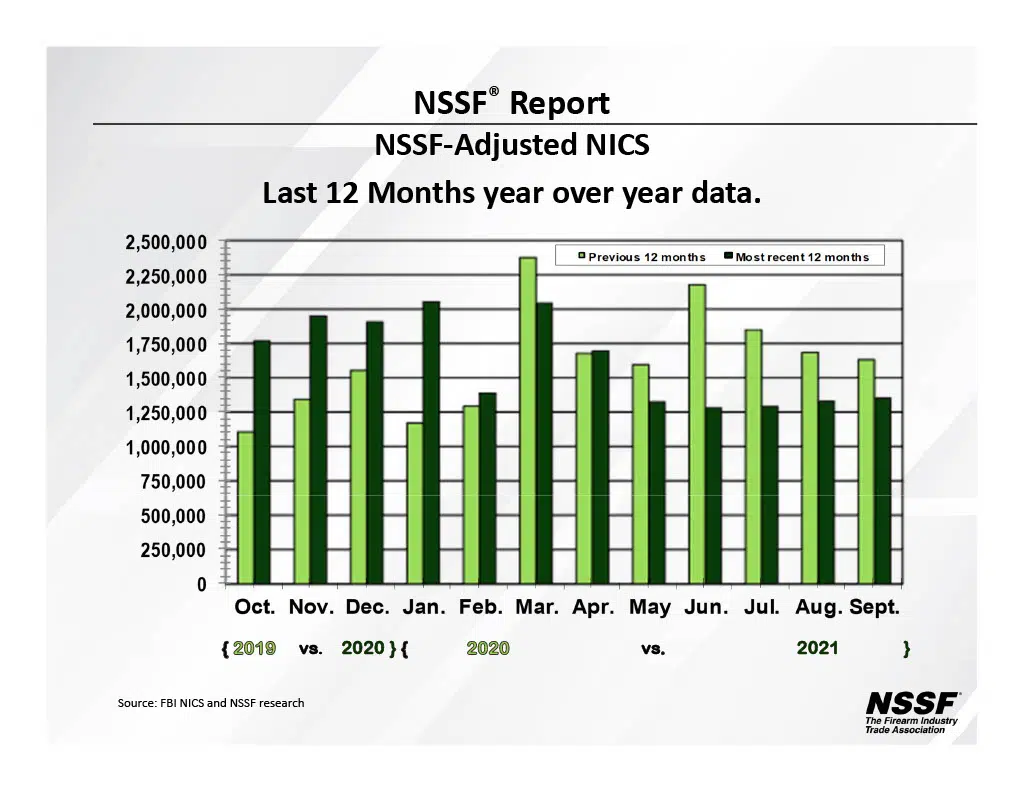 I don't have a magic ball here, and I don't know for sure if that will happen. Even if it does, 2021 almost certainly won't be able to pass 2020's total sales. 2020 ended the year with 21 million gun-related background checks. 2021 would have to average 2.4 million checks which would mean basically setting new all-time records each month.
But, the last three months of 2021 could pass the last three months of 2020. So, maybe we'll get closer to that 21 million mark than you'd expect.