Over 13.7 million gun-sale background checks have now been conducted this year–more than all of 2019.
The National Shooting Sports Foundation (NSSF), the firearms industry trade group, released its latest monthly analysis of FBI background check data on Monday. It showed the September 2021 gun-sale background check numbers to be the second-best for the month on record, with only September 2020 seeing higher levels. It also marks the fifth straight month with gun-sale background checks at second-best levels.
The data provides further evidence of a new post-surge normal for gun sales in the United States. While concerns over the pandemic and civil unrest that fueled record sales in 2020 have largely subsided, they may have been replaced by concerns over federal gun control proposals and record increases in murder as a source of heightened demand for guns.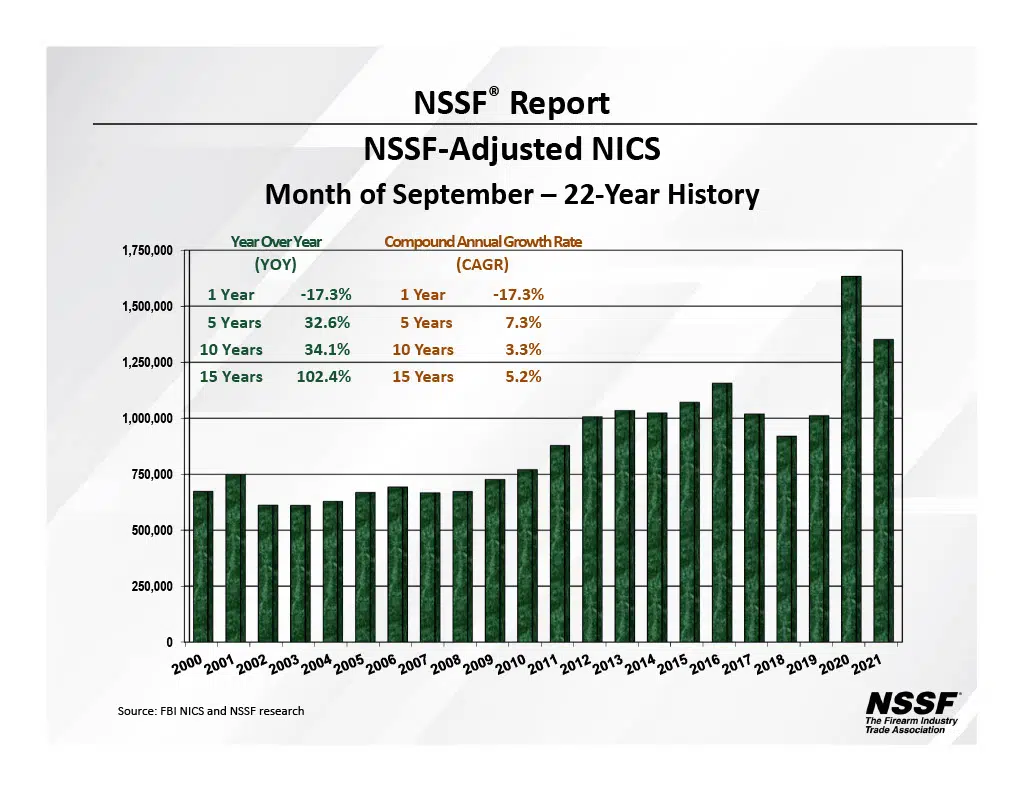 "September's strong showing of over 1.3 million background checks conducted for the sale of a firearm already tops totals seen in 2019, with three months still remaining," Mark Oliva, an NSSF spokesman, said. "To date, over 13.7 million background checks have been completed for a firearm sale, topping 2019's total of nearly 13.2 million."
He also noted that the numbers indicated a trend of monthly increases for 2021, with Fall being the season typically associated with increased gun sales.
"September also saw firearm sales continue an incremental month-over-month climb, with over 20,000 more background checks for gun sales than were recorded in August 2021," Oliva said. "Firearm sales typically rise during autumn months as hunters get back into the woods, fields and marshes for hunting season and gun buyers take advantage of new models and holiday sales."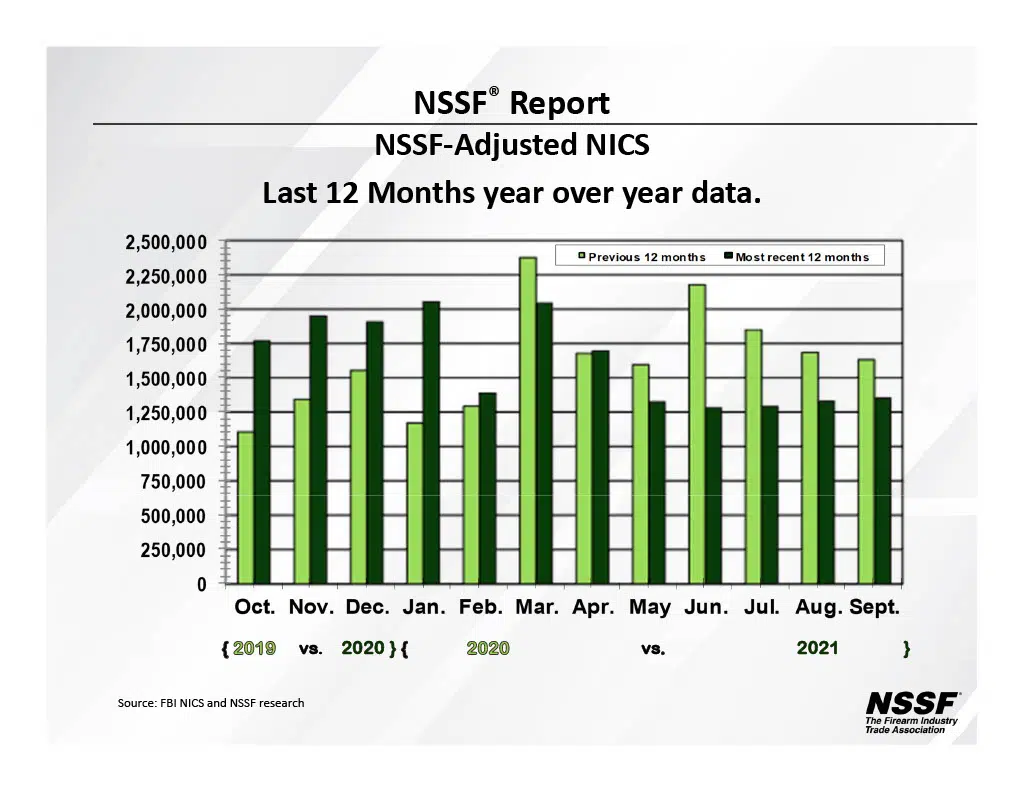 Checks processed by the FBI's National Instant Criminal Background Check System (NICS) are considered the best proxy for gun sales in the U.S. because they are required on nearly all sales conducted by licensed dealers. However, they do not represent a one-to-one representation of gun sales for a variety of reasons. For example, 25 states currently allow residents to bypass NICS if they have a qualifying license, such as a concealed carry permit, for which they already passed a background check to obtain. Additionally, most states do not require background checks on the private sale of used guns.
The NSSF analyzes FBI NICS data to identify all background checks and reach its gun sale estimates. The group's gun sale estimate is closer to the true number of gun sales because it does not count background checks associated with concealed carry permits.
Based on the year's trends thus far, the group predicts that 2021 could end up trailing only 2020 in terms of record-breaking gun sales.
"Each month since April 2021 has registered as the second strongest month on record for gun sale background checks, only behind 2020, when 21 million background checks were recorded," Oliva said. "At this pace, 2021 could be the second strongest year for firearm sales ever recorded."
UPDATE 10/5/2021 9:12 AM: This piece has been updated with a correction. Murder saw record increases, not violent crime overall.