The Texas electorate doesn't appear to have an appetite for new gun-control laws or a new governor who supports them.
That's the takeaway from the latest statewide polling from the Texas Politics Project at UT Austin released Monday. It shows Greg Abbott (R.) leading his likely Democratic challenger Beto O'Rourke 47 percent to 37 percent among registered voters in the state, with independents favoring Abbott over O'Rourke nearly 2 to 1. It also found that only 43 percent of Texas voters favor stricter gun laws, while a combined 50 percent think they should be less strict or stay the same.
The results of the poll arrive the same day as primary voting kicks off in Texas. Abbott is seeking his third term as the chief executive of the Lone Star State. Amidst a crowded field of Republican primary challengers, the poll shows Abbott enjoys support from 60 percent of Texas Republican primary voters. Beto O'Rourke, who unsuccessfully ran for Ted Cruz's (R.) Texas Senate seat in 2018 and for the presidency in 2019, is the clear favorite to win the Democratic nomination. The poll shows 93 percent of Democratic primary voters support O'Rourke to be the gubernatorial nominee.
O'Rourke has had a rocky start to his campaign, with data consistently showing him trailing Abbott in head-to-head polling. His public calls for gun confiscation as a presidential candidate and in the early months of his gubernatorial campaign likely contributed to his trailing in the polls. A December Quinnipiac University poll found 60 percent of voters felt Greg Abbott would handle gun policy better, while only 33 percent said the same of O'Rourke. However, just last week he attempted to walk back his position on confiscation, ostensibly to be more in line with an electorate that appears not to favor strict new gun laws.
The 43 percent of Texas voters who do report favoring stricter gun laws is the lowest number recorded by the Texas Politics Project since November of 2015. Black voters were the most likely racial demographic to support stricter laws at 62 percent, while only 48 percent of Hispanic voters and 36 percent of White voters said the same.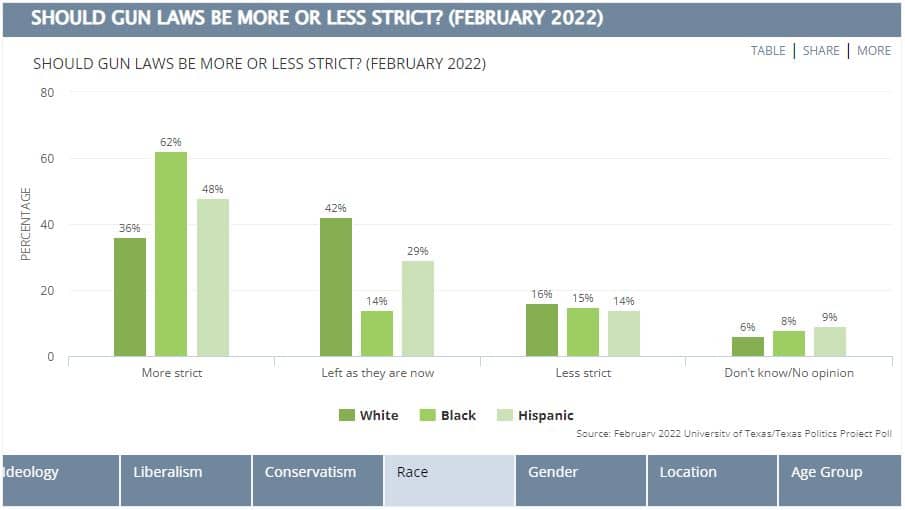 Female voters were far more likely than male voters (49 percent to 36 percent) to say that they supported stricter gun laws. Meanwhile, 59 percent of men said gun laws should remain the same or be less strict, compared with 41 percent of females.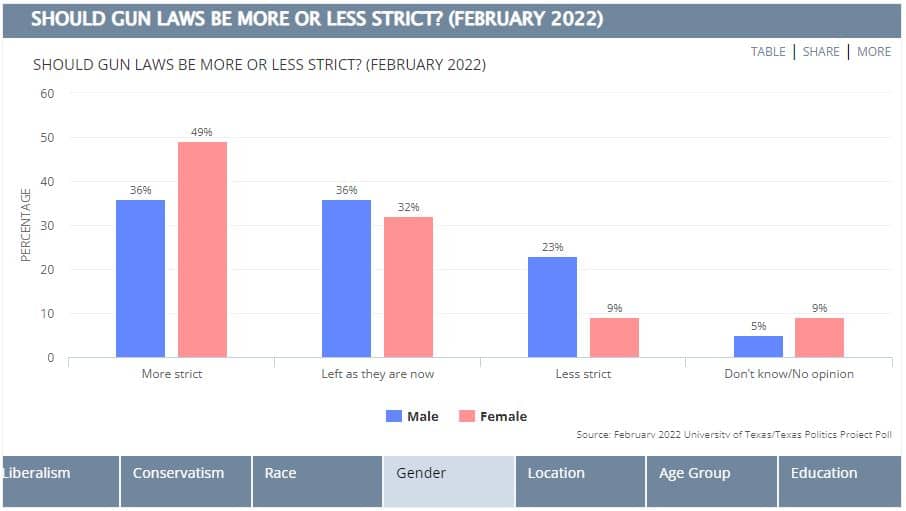 Among different age groups, voters aged to 30-44 were slightly more likely than other voters to favor stricter laws at 45 percent. Younger voters, those aged 18-29, were the group most likely to say gun laws should be less strict, at 20 percent–continuing a recent trend seen in national polling.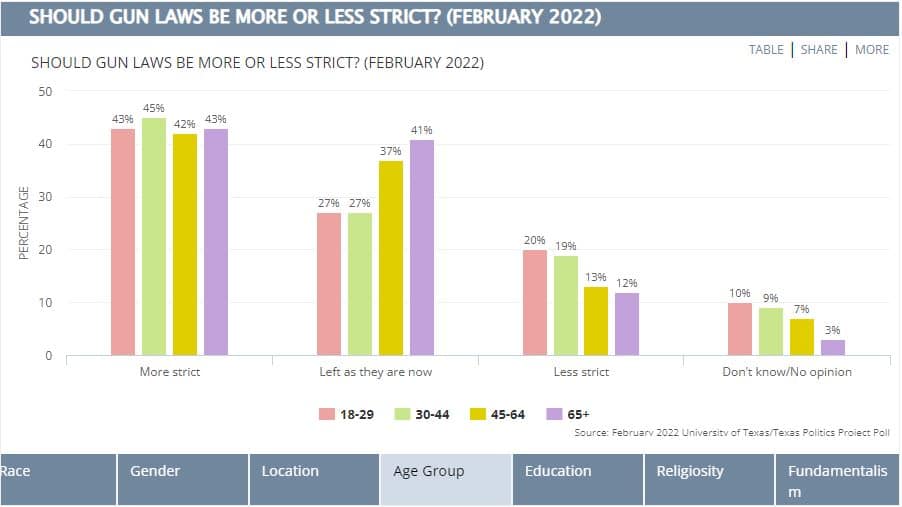 On the broader issue of approval among voters, 44 percent approve of Governor Abbott while 42 percent disapprove. That marks the first time since March of 2021 that the Governor's approval ratings have been above water in the state. He's even outperforming national Democratic figures like President Joe Biden, who currently has a 36 percent approval rating among Texas voters.
He's also outpolling all other prominent Texas Republican politicians, who all find themselves below water, including Senators Ted Cruz and John Cornyn, Lt. Governor Dan Patrick, and AG Ken Paxton.
The statewide poll sampled 1,200 registered voters in Texas between Jan. 28 and Feb. 7, 2022. The margin of error for the full sample is +/- 2.83%.