The National Rifle Association's (NRA) struggles with declining membership appear to have continued well into 2021, internal financial reports obtained by The Reload show.
The document, which contains the NRA's financial statements as of August 31, 2021, shows an organization continuing to slash spending as it fails to retain dues-paying members. The document reveals a relative stagnation in overall membership totals since at least 2013. Though the numbers fluctuate based on election years and in the aftermath of high-profile mass shootings, the report also shows a steady decline in membership year-over-year after reaching a peak in 2018.
The NRA has reported up to six million members in previous years, but a graph contained in the document reveals the group's year-end membership totals never even reached 5.5 million. Instead, membership appears to have fluctuated between roughly four and five million from 2012 to August 2021, breaching five million members only once, in 2018. As of August 2021, the group recorded north of 4.5 million members.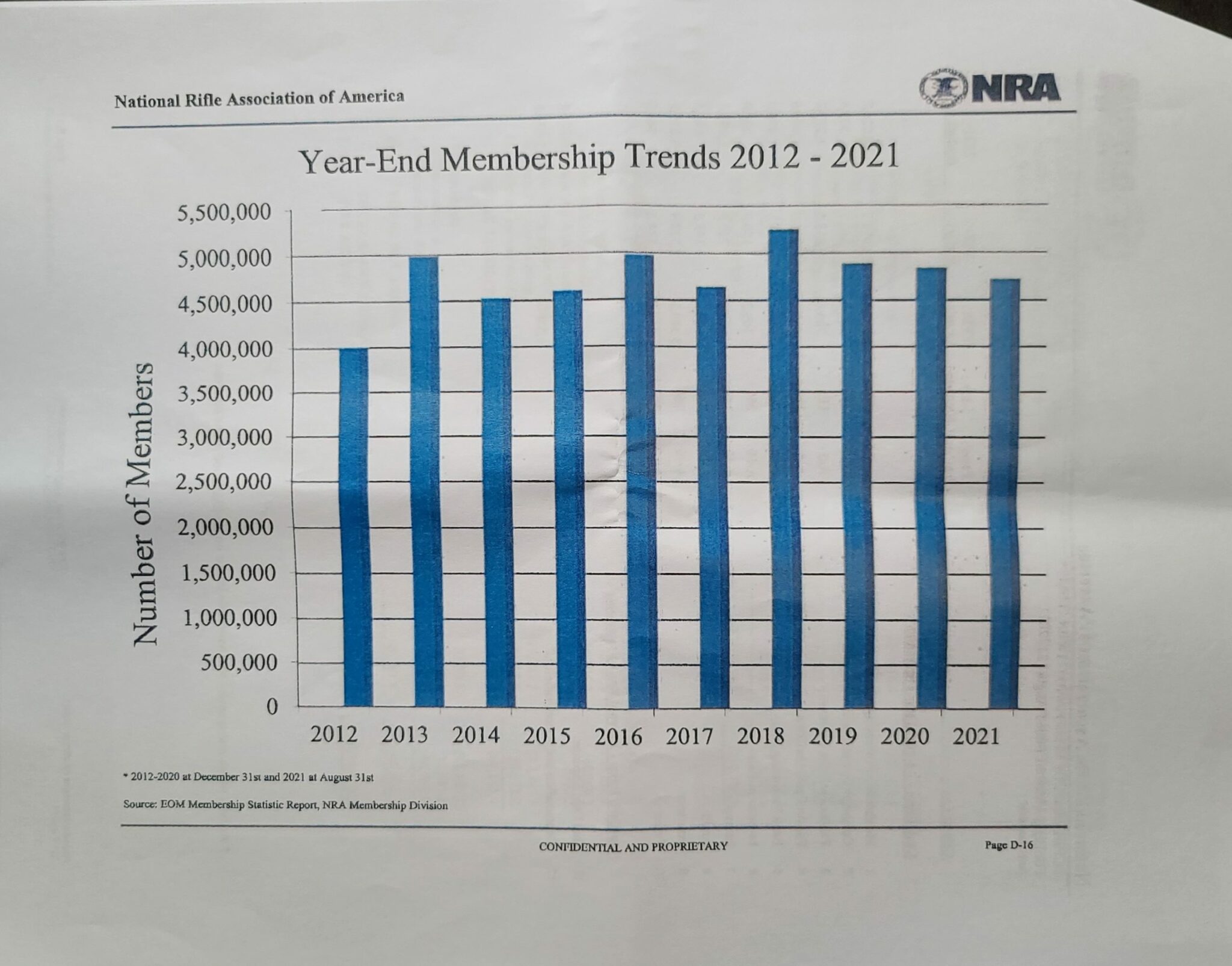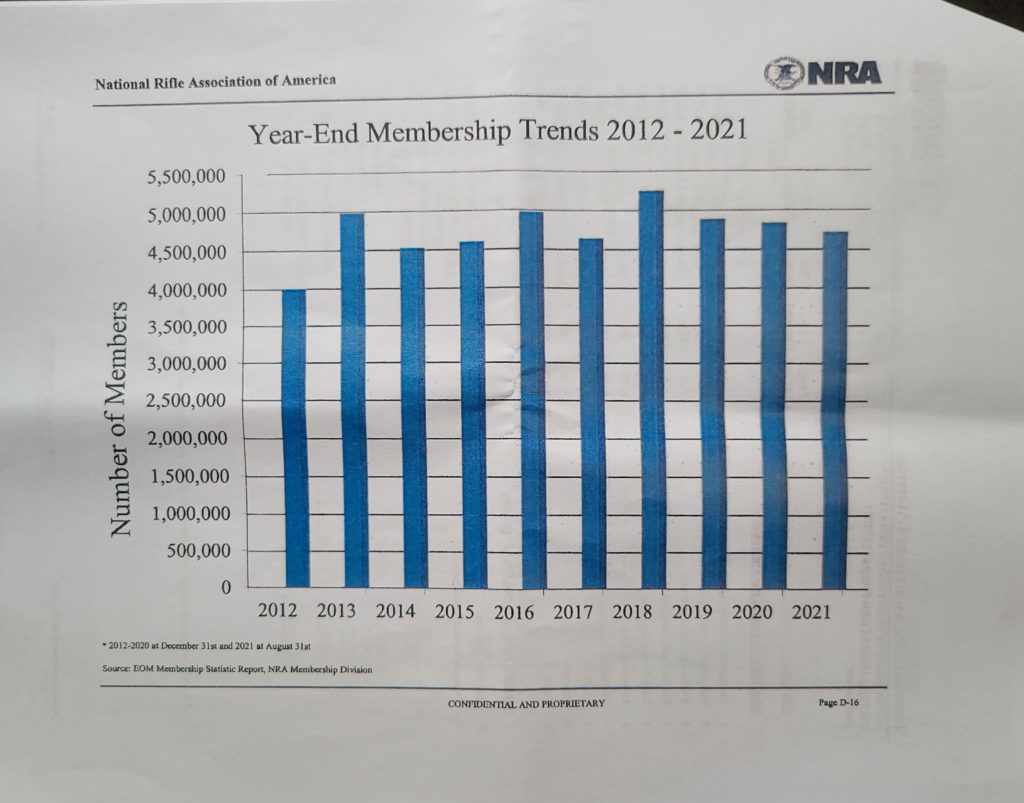 Amy Hunter, director of NRA Media Relations, described the report as "outdated" and "unaudited." She said group "is not inclined to discuss non-public business strategies with those outside the organization," but described it as "very positive."
"We sank an ATF nominee who was adverse to the Second Amendment," Hunter told The Reload. "We are winning many battles to elect pro-Second Amendment lawmakers. We are driving the passage of constitutional carry – the gold standard of self-defense. And we are confronting a New York Attorney General who openly vowed to destroy our organization."
The NRA did not respond to questions about why the report clashed with previous claims the organization had 6 million members in 2018. But it did argue many of the struggles faced by the NRA in recent years have been the result of the pandemic.
"With respect to questions comparing figures from a pre-pandemic 2018 to 2020 (figures during a worldwide pandemic), the NRA, like many others, continues to confront this global pandemic that forced the cancellation of many events and impacted revenue streams," Hunter said. "The safety and well-being of our staff and members is paramount. Through it all, the NRA has emerged stronger – better positioned to fight for its members and their freedoms. The Association and its patriotic members deserve an enormous amount of credit."
The steady decline in membership since 2018 coincides with increasing political and legal scrutiny the group has found itself under during the same timeframe. Internal strife and allegations that top NRA executives, including CEO Wayne LaPierre, diverted millions of dollars of the group's money for personal expenses have resulted in damaged public perception both in and outside of the gun-rights community.
High-profile board member resignations, a failed bankruptcy, and a lawsuit led by New York Attorney General Letitia James (D.) that threatens the group with dissolution have all added to the turmoil plaguing the group.
A graph contained in the document shows the NRA's revenue from membership dues was nearly halved from August 2018 to August 2019. It then decreased modestly over the next two years.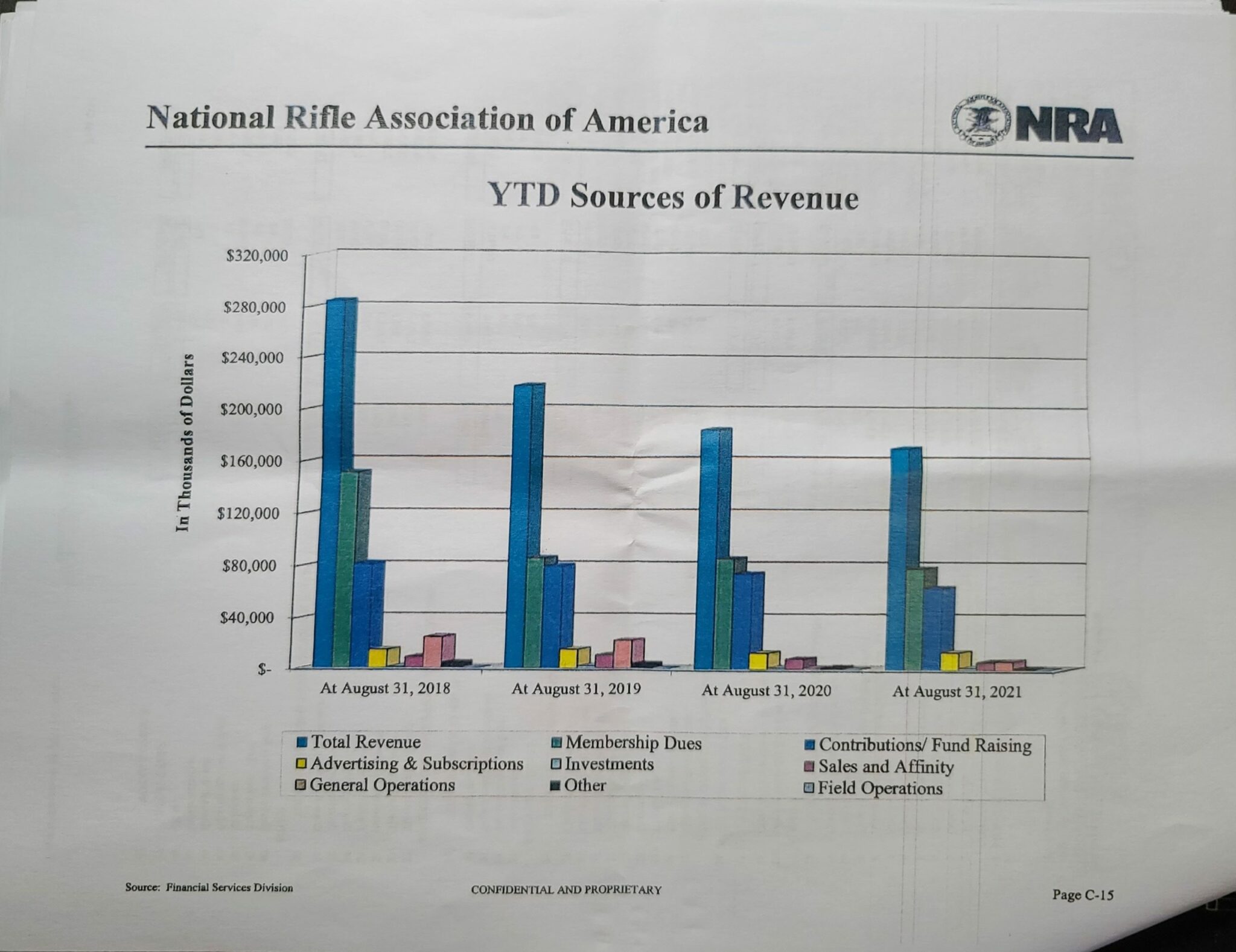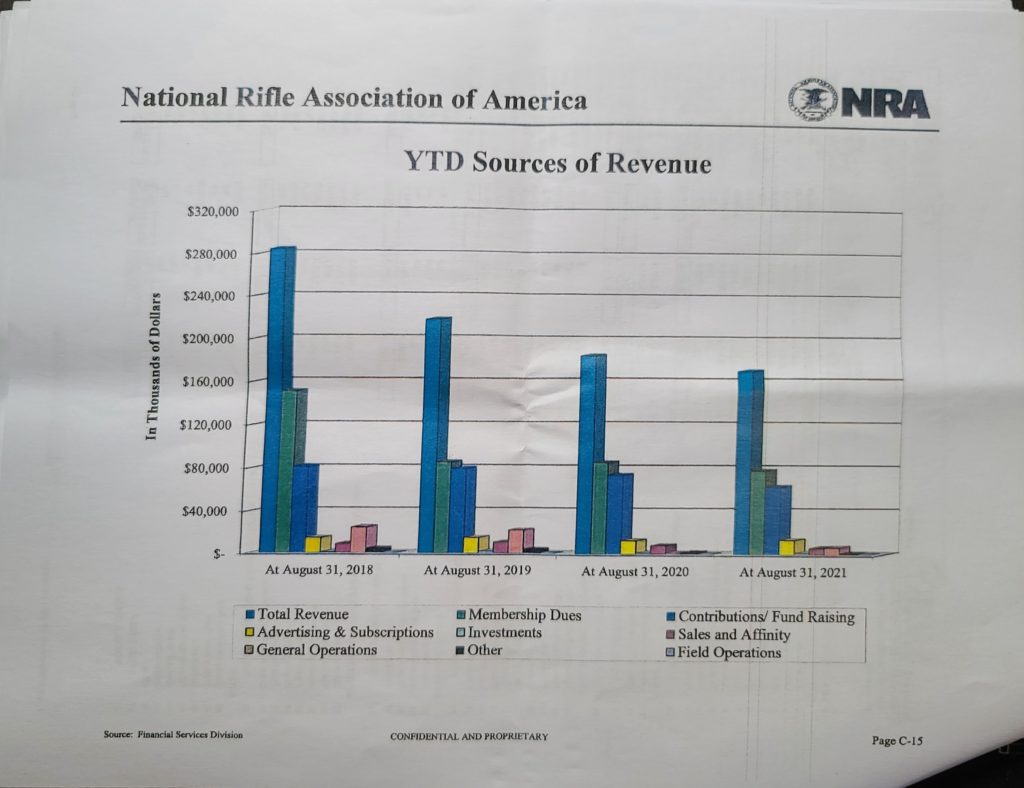 Membership numbers can shift throughout a given year as short-term memberships lapse or as new members join the organization. That makes balancing new membership outreach efforts with existing member retention key for continued growth.
The NRA benefitted from an influx of 384,144 new members as of August 2021. That's nearly 22,000 more than the group had budgeted. However, it brought in $773,700 less than it expected to from those new members. The increase in new members also was not enough to make up ground for the group's falling short of projected member renewals by nearly 100,000. Money from renewals came in at nearly $8.4 million less than the group's expectations.
Additionally, the group missed its membership contributions goal by over $7.1 million.
The report shows the group's overall membership revenue was roughly $16.4 million short of projected totals by that date. That represents the single largest revenue shortfall relative to the budget in the group's entire financial report.
The NRA also saw shortfalls in membership revenue compared to the first eight months of 2020. New member revenue was down $2.5 million, revenue from renewals fell by $4.8 million, and membership contributions dropped by $9.8 million.
Despite these shortfalls, however, the group's overall revenue exceeded its expenses. This was due largely to slashes in spending on membership promotions and general operations. The group spent roughly $5.4 million less on promotions, outreach, and fundraising for new and existing members as of August 2021, compared to the same date in 2020.
UPDATE 2-3-2022 11:30 AM EST: This story has been updated to include comments from the NRA.