Almost half of Democrats would support a categorical ban on the most popular type of firearm in the country.
That's what Gallup pollsters found in the firm's latest survey on Americans' attitudes toward guns released Tuesday. 49 percent of self-identified Democrats supported "a law that would ban the possession of handguns, except by the police," while 51 percent were opposed. Democratic support for a ban was up nine points since Gallup asked the same question in 2021. Republicans and independents, meanwhile, overwhelmingly opposed a handgun ban, at 93 percent and 73 percent, respectively.
Overall, support among the broader public continues to sit at near multi-decade lows.
"While Americans do want gun laws tightened, they also do not favor a ban on handguns for ordinary citizens, something Gallup has asked about since 1959," the pollster said of the results. "Just 27% of U.S. adults believe that no one outside of police or other authorized persons should be able to possess a handgun."
The poll results indicate the extent to which Democrats have soured on guns in recent years and diverged from the rest of the country. As attitudes on guns have polarized along party lines over the last decade, the Democratic party has made a conscious effort to elevate restricting access to firearms as a key priority for its members. That attitude shift appears to have permeated down to the grassroots, so much so that now half of the party's voting base would support a gun ban that the United States Supreme Court ruled unconstitutional nearly 15 years ago.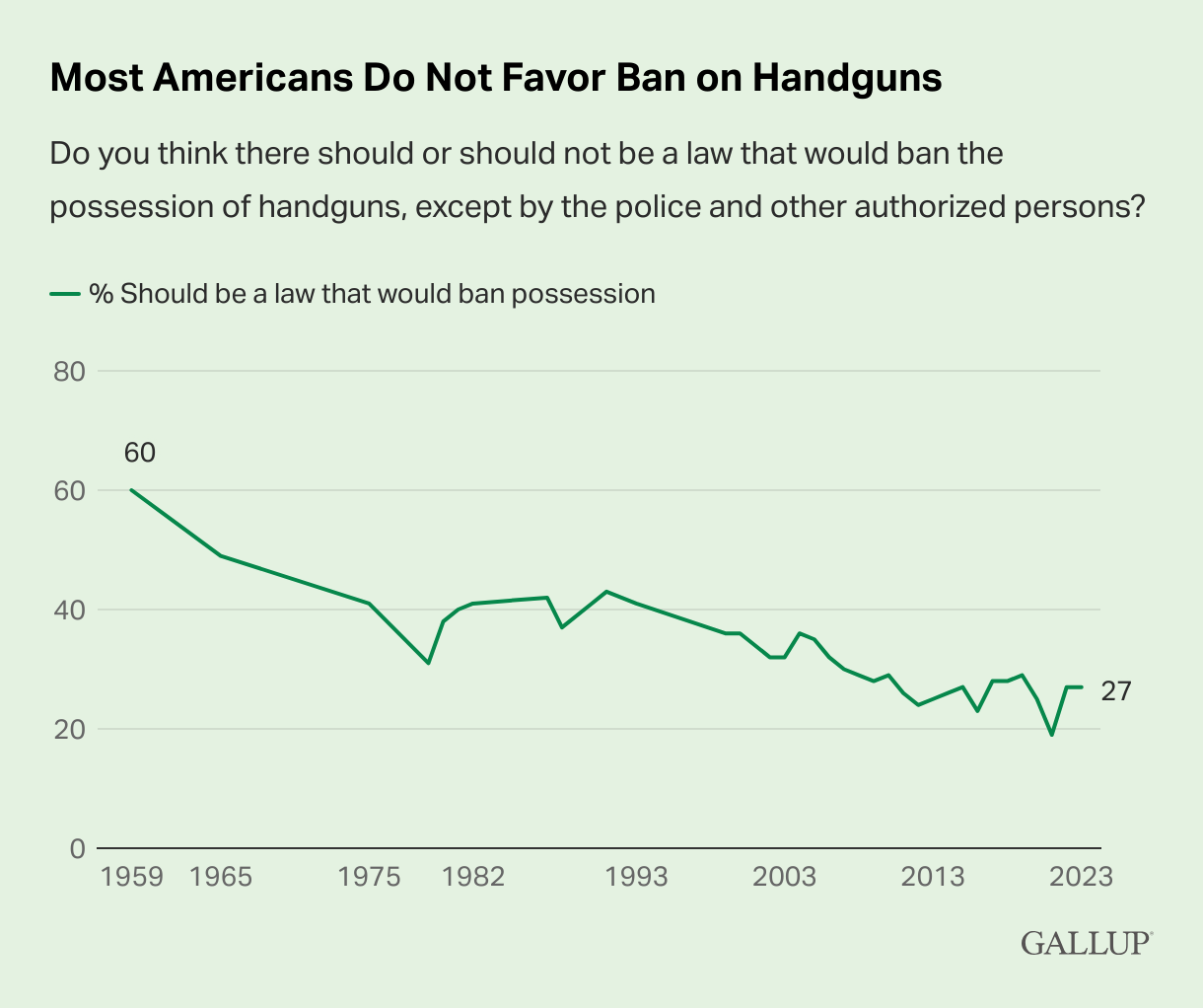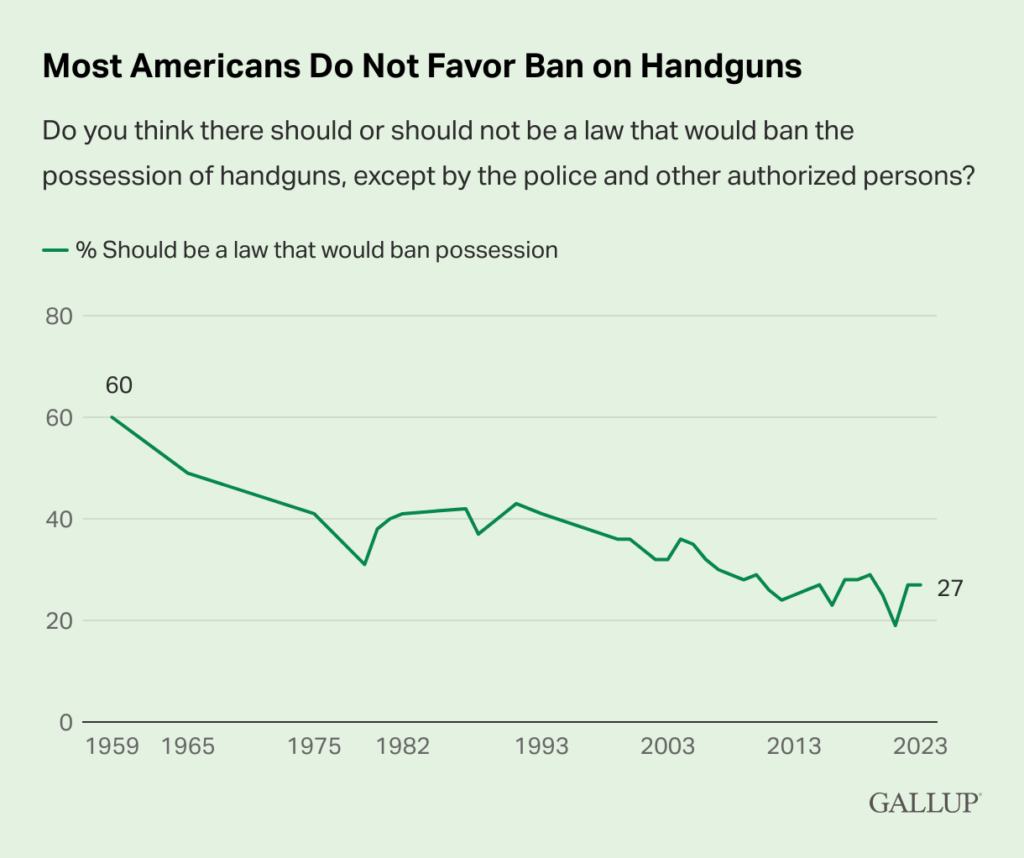 Other attitudes on gun laws remained stable from the last time Gallup ran its poll. A majority of Americans, 56 percent, said gun laws should be stricter, while 43 percent said they should be kept the same or made less strict. Support for more stringent laws is driven primarily by Democrats, at 88 percent, with 56 percent of independents reporting they feel the same. The poll also found a sizeable gender gap. Two-thirds of female respondents said they support stricter gun laws compared with only 46 percent of males.
While a majority of the country said they wanted stricter gun laws, an even larger majority viewed gun ownership favorably. Nearly two-thirds of respondents said having a gun in the home makes it a safer place to be, compared with 32 percent who said it makes a home more dangerous. That represents a complete reversal from when Gallup began asking the question in 2000. Back then, just 35 percent said a gun improved home safety, and a majority disagreed. Now, majorities across every single demographic polled, other than Democrats (37 percent) and college graduates (44 percent), say they think having a gun in the home improves safety.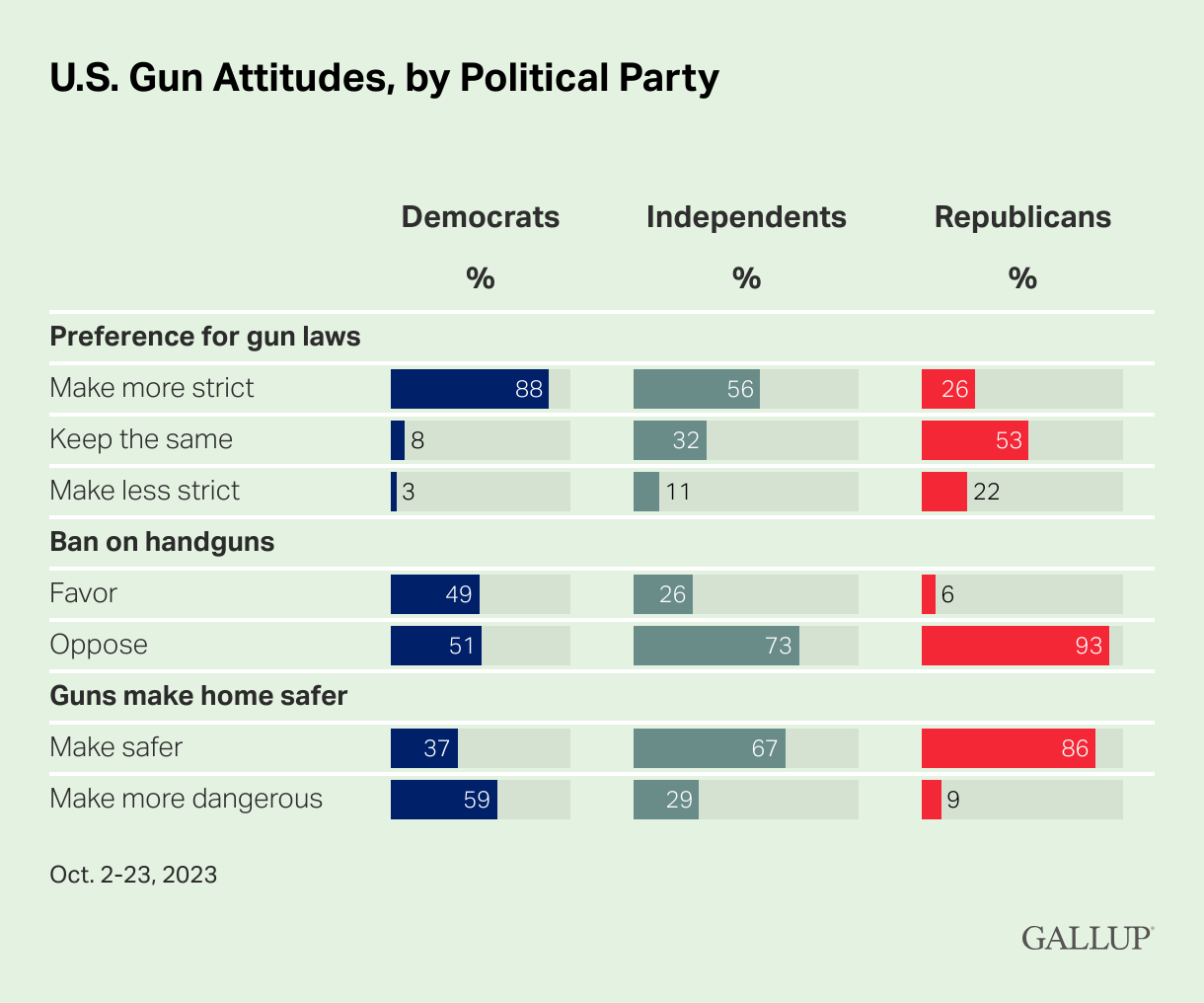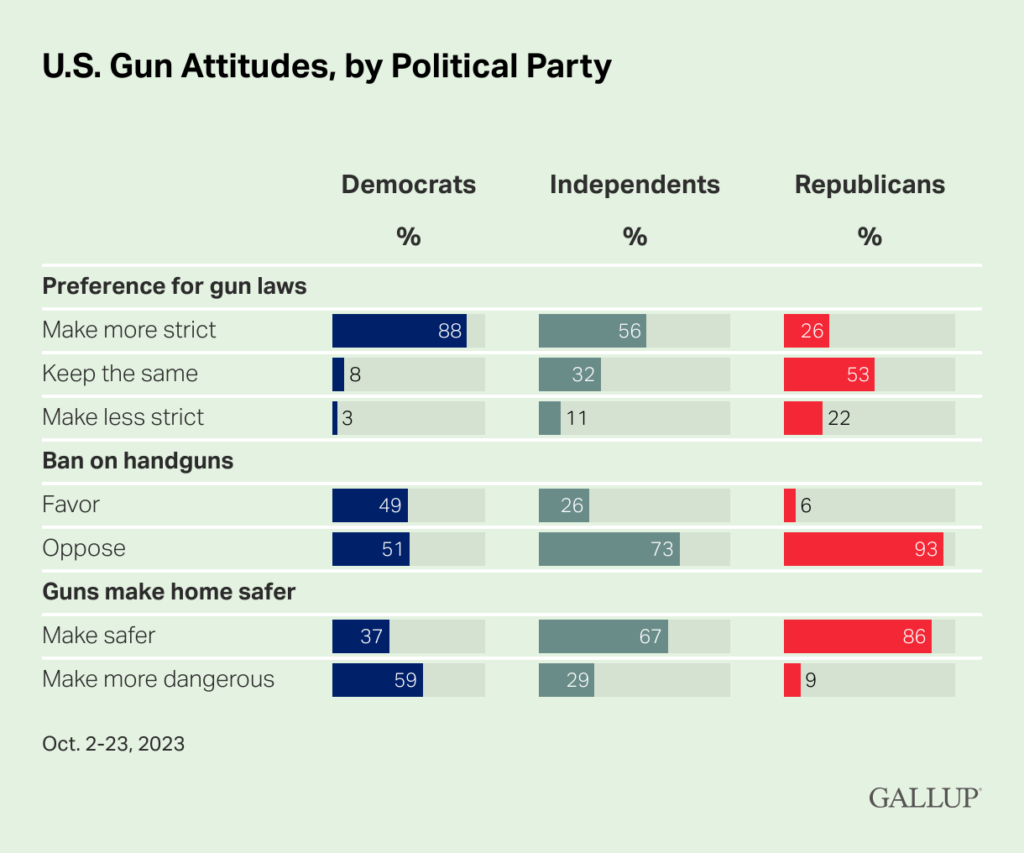 Gallup also found little change in self-reported gun ownership. 44 percent of adults said they have a gun in their home or on their property. 30 percent said the weapon belongs to them personally.
Among gun-owning households, Gallup found ownership of more than one gun to be the most common. A third of gun owners reported having between two and four firearms, while 22 percent reported owning more than five. The median gun-owning home has two firearms, according to the poll.
"Gun owners may now be owning more total guns than in the past," the pollster said. "U.S. adults with a gun in their household say their house has an average of 4.9 guns. In prior surveys, the average number of guns owned ranged between 4.0 and 4.5."
The Gallup survey of 1,009 randomly-selected adults was conducted October 2-23, 2023. It has a margin of error of ±4 percentage points.