Americans bought more than 1.3 million guns in August.
That's according to an industry analysis of FBI background check data released on Wednesday. It makes last month the second-best August on record for gun sales in the United States, with 2020 being the only year to see higher sales. 2021 has now seen four straight months with gun sales at second-best levels.
The numbers indicate gun sales have begun to settle down into a new post-surge normal. While purchases are no longer at the all-time-record levels seen throughout much of 2020 and culminating in a new yearly record, they haven't regressed below levels seen in the years before the coronavirus pandemic drove Americans to the gun store in an unprecedented surge. The stabilization of gun sales at a far higher rate than before the latest surge began indicates more Americans are buying more guns than they used to, which will likely impact both American culture and politics in the long term as well as gun-company profits in the short term.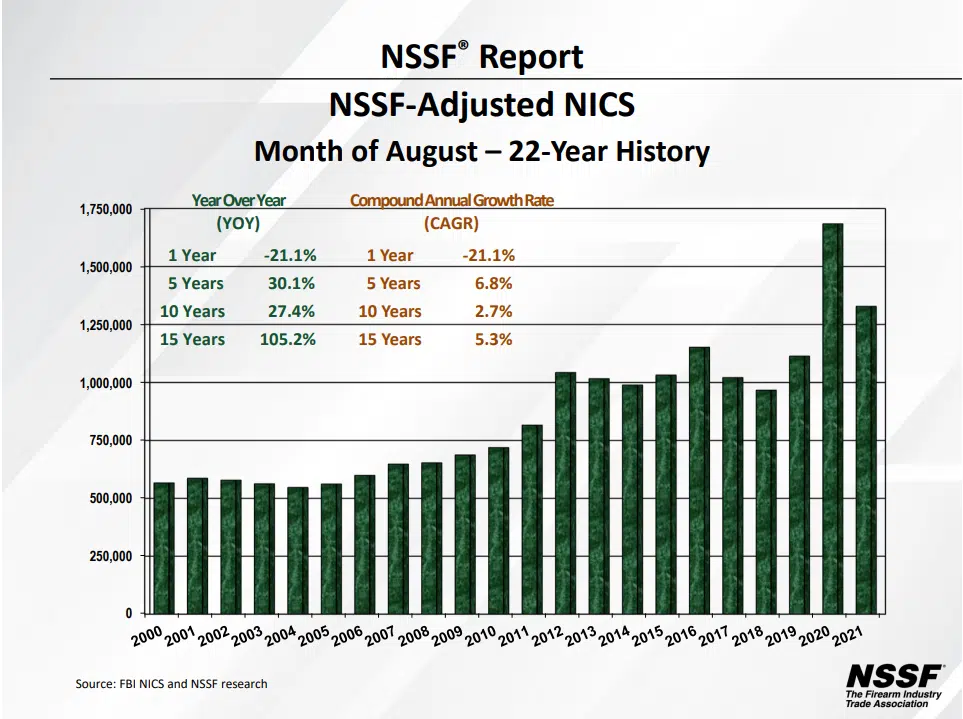 The National Shooting Sports Foundation (NSSF), the industry trade group that conducted the analysis, said sustained demand for guns even as the initial shock of the pandemic has worn off and tensions over police relations with minority communities have cooled since last summer is driven mainly by concern over the gun-control measures being pursued by President Joe Biden (D.).
"President Joe Biden nominated a gun control lobbyist to lead the Bureau of Alcohol, Tobacco, Firearms, and Explosives, is calling for the repeal of the Protection of Lawful Commerce in Arms Act (PLCAA) to allow activist lawyers to sue firearm manufacturers into oblivion, and is pursuing end-runs around Congress through proposed rules that are outside the Executive Branch's Constitutional authority," Mark Oliva, an NSSF spokesman, said. "Americans are choosing a different path. Americans acted upon their God-given right to keep and bear arms over 1.3 million times in August. That sends a clear signal that Americans are choosing their gun rights over the Biden administration's gun control."
NSSF found total 2021 sales were down about ten percent from the same period during the previous year but have already nearly exceeded 2019's full-year total.
"The August 2021 figures were the second strongest for the month on record, surpassed only by August 2020, when 1,684,083 background checks for a firearm sale were conducted," the group said in its analysis. "The total NSSF-adjusted NICS January – August 2021 reflects a decrease of 10.3% compared to the same time period in 2020."
Though sales have begun to recede, major gun company profits have not. In August, Ruger reported a 51 percent sales increase in the first six months of 2021 and a 98 percent increase in profits. Winchester saw similar gains with a 108 percent increase in sales. Its parent company, Olin Corporation, went from a $220 million loss in the first six months of 2020 to a $599 million profit in the same period of 2021.
Oliva said the industry expects 2021 will soon pass total sales for 2019 as the market moves into the Fall sales period, where demand has traditionally been strongest.
"So far in 2021, there have been over 12.4 million background checks for the sale of a firearm," he said. "That is within striking distance of 2019's full year totals, when 13.2 million background checks were conducted for a gun sale. Four months remain, during which firearm sales historically rise."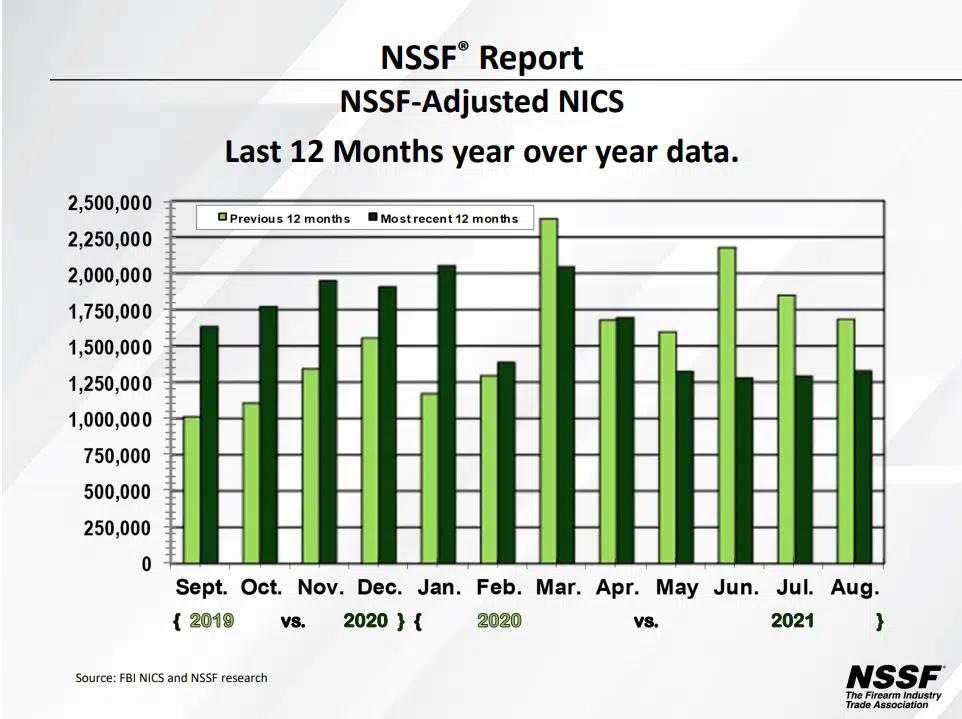 Checks processed by the FBI's National Instant Criminal Background Check System (NICS) are considered the best barometer for gun sales in the United States because they are required on nearly all transactions made by licensed dealers who are the only ones allowed to sell new guns to customers. However, they do not represent a one-to-one representation of gun sales for a variety of reasons. For instance, 25 states currently allow residents to bypass NICS checks if they have a qualifying license such as a concealed carry permit. Additionally, most states do not require NICS checks on the private sale of used guns.
NSSF analyzed FBI codes for NICS checks to identify all checks conducted on gun sales in August. The group's sales estimate is closer to the true number of gun sales because it removes checks related to concealed carry permits or other non-sales events.