April 2021 saw the most gun sales of any April on record.
The month saw nearly 1.7 million background checks on gun sales, according to an industry analysis of FBI numbers released on Monday. That puts it about one percent up from the previous record set last year. It also continues the remarkable surge in gun sales that has gone on for more than a year.
Sales have been between 1.5 million and 2 million per month since the coronavirus pandemic began last March. 2020 was the best year on record for background checks on gun sales. The first quarter of 2021 was the best quarter in history for gun checks.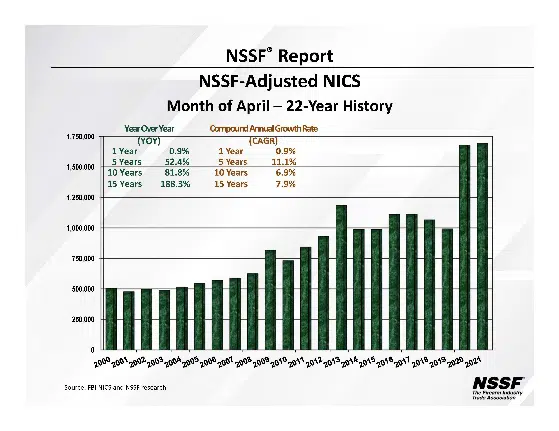 The National Shooting Sports Foundation, which represents the gun industry and performed the analysis, said the continued gun-buying spree was largely a result of political considerations.
"President Biden's talk about gun control, Congress's talk about gun control continues to drive firearm sales," Mark Oliva, a spokesman for the foundation, told The Reload. "People are concerned that they're not going to be able to buy the firearm of their choosing when they want to exercise their rights. They're doing it while they can before roadblocks are put in front of them."
He pointed to President Biden's recent speech before Congress where he called on legislators to institute new bans on commonly owned ammunition magazines and popular rifles including the AR-15.
Oliva said, "ongoing concerns about personal safety" were "certainly a factor" in the continued surge. A survey of dealers from last year found 40% of buyers during the early surge were first-time gun owners. A collection of those first-time buyers said uncertainty created by the pandemic, prisoner releases, new gun-control proposals, racial injustice, and widespread rioting motivated their decisions to become gun owners.
Some of them have gone on to delve into politics and even formed groups like Asian American and Pacific Islander Gun Owners to reach underserved groups. It is likely a significant number of the sales that drove April 2021 to record levels were also made by first-time buyers. Whether, and how, their politics change will determine how guns are regulated across the country.
The analysis of sales was conducted by removing non-sales checks from the FBI's monthly report on the National Instant Criminal Background Check System (NICS). Numbers from the NICS checks are considered to be the best representation of gun sales in America because sales conducted by licensed dealers are required to go through a check. The numbers are not a one-to-one representation of gun sales for a number of reasons.
Raw monthly NICS numbers include gun-carry permit checks. In recent years, several states have begun re-checking every resident with a gun-carry permit on a monthly basis, which has further pushed the raw NICS check number away from the number associated with just gun sales.
Additionally, more than one gun can be purchased during a single NICS check, most states do not require NICS checks on sales of used guns between private parties, and some states also allow residents to forgo NICS checks on gun purchases if they already hold other permits that required a NICS check to obtain.