While polling shows gun policy has slipped from the minds of most voters heading toward election day, it may prove key in a budding upset.
New York Governor Kathy Hochul (D.) faces a surprisingly close race in her reelection bid against Republican challenger Lee Zeldin. Over the last 30 days, her double-digit lead in the RealClearPolitics polling average has collapsed by half as early voting is set to begin on Saturday.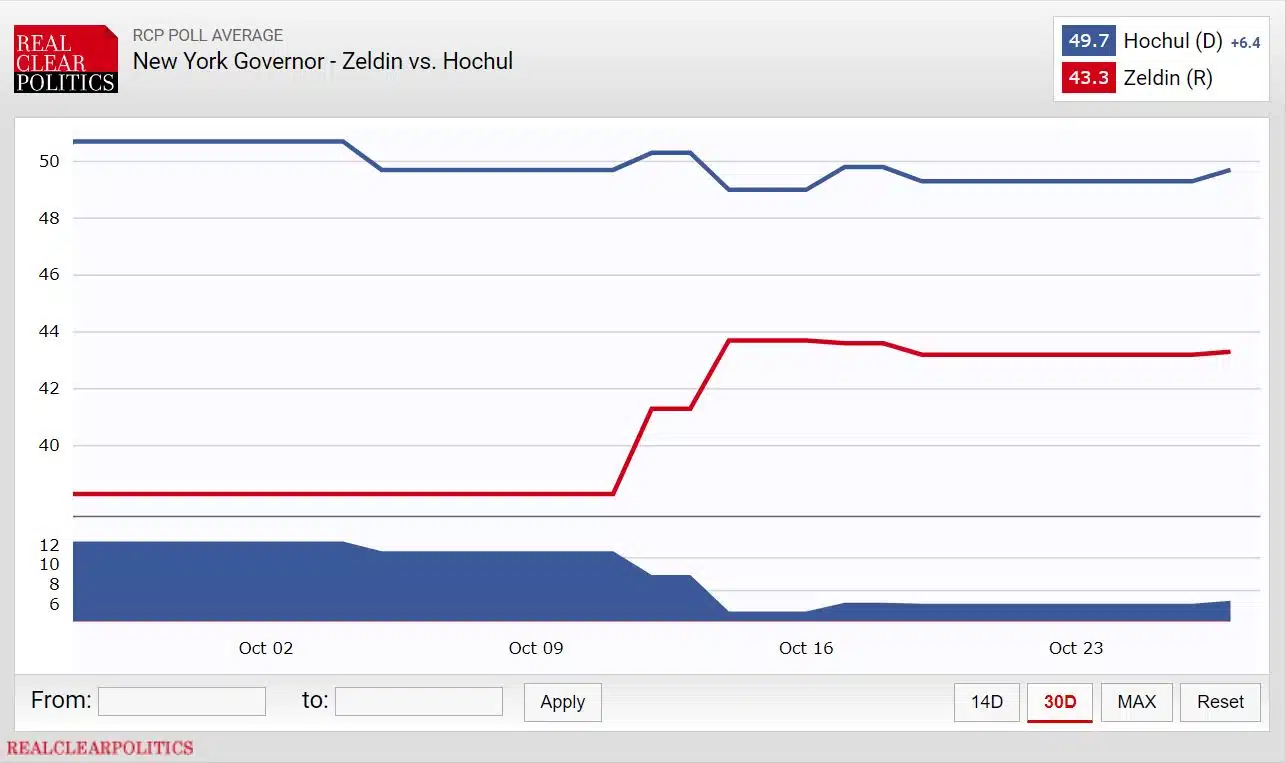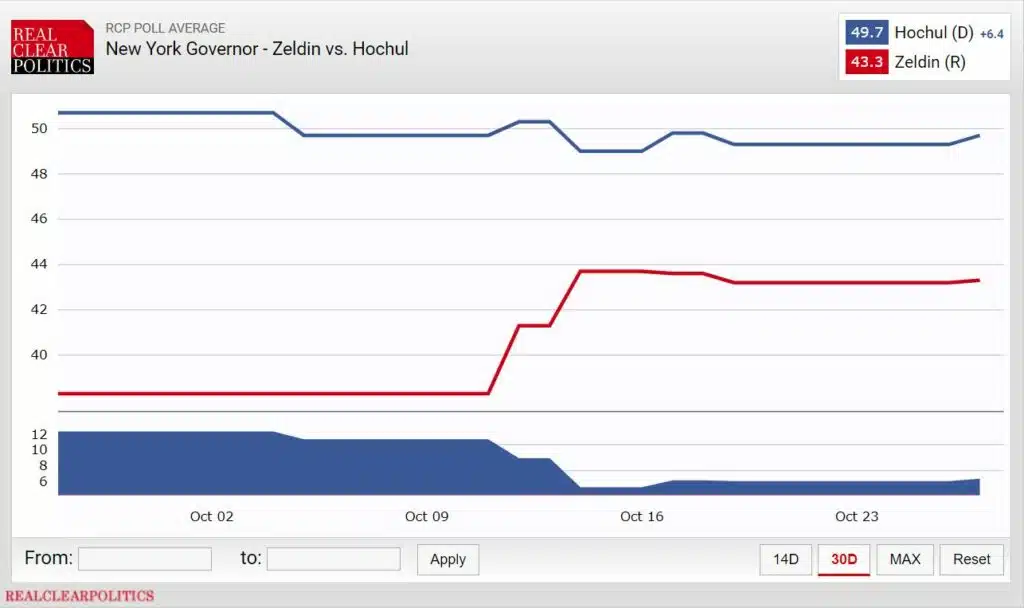 The RCP average now gives Hochul around a 6-point lead over her Republican challenger. The latest Quinnipiac poll puts her lead at just four points, well within striking distance in a reliably blue state. In contrast, Andrew Cuomo defeated his Republican challenger by 22-points in 2018.
New York and Governor Hochul have been at the center of national attention on gun policy this year, with little noticeable political benefit. First, a mass shooting at a Buffalo grocery store saw the state crackdown with stricter enforcement of its red flag law. Then, the state's concealed carry law was struck down in the first major Second Amendment ruling by the Supreme Court in over a decade. The state drew more national headlines by passing the most restrictive concealed-carry law in the nation in response a week later. But several portions of the law have been struck down by multiple federal judges.
And yet, despite this publicity, Hochul finds herself underwater on crime and facing the most competitive New York gubernatorial race in at least a decade. It's so tough, in fact, that the incumbent Democrat has even taken to referring to herself as an "underdog" in the media, even though a Republican has not governed the state since 2006.
To be clear, Zeldin has not made guns the centerpiece of his campaign. He has focused most of his message on the economy and, especially, rising crime rates.
If the polling in the race is accurate, it makes sense that Zeldin's strategy would be paying dividends. The Quinnipiac poll finds that New York voters overwhelmingly consider crime their number one issue. It even polled eight points higher than inflation, the second most cited issue in the poll.
In recognition of the fact that she's losing ground with voters, Hochul has recently begun a new strategy to spin the crime issue in her favor: emphasizing gun control. During the one and only gubernatorial debate held on Tuesday, Hochul attempted to highlight her recent push for new gun restrictions.
"After the horrific massacre in Buffalo that killed ten of my neighbors, I took immediate action to strengthen our Red Flag law and raise the age to buy an AR-15," a tweet from Hochul's account sent during the public safety portion of the debate read. "This is what meaningful action against gun violence looks like."
She tried to undercut her opponent's crime-heavy messaging by accusing Zeldin of being soft on public safety issues due to his support for gun rights.
"There are three things in life that are true: 1. The sun will rise. 2. The sun will set. 3. Lee Zeldin will oppose commonsense gun safety laws," her account added.
The debate itself featured a segment on guns. In it, Hochul doubled down on her animosity toward the Supreme Court's ruling in New York State Rifle and Pistol Association v. Bruen, which struck down the state's previous concealed-carry regime.
"In the wake of the Supreme Court's reckless decision on concealed carry, we took swift action to strengthen our gun safety laws," she said. "It is my job to keep people safe, and I'm not backing down on this — not now, not ever."
Zeldin voiced support for the Supreme Court's ruling and attempted to fire back at Hochul's claims.
"Of course, New York did have an unconstitutional concealed carry law," he said on the debate stage.
He called the Concealed Carry Improvement Act that Hochul spearheaded in response to the Supreme Court's ruling "a new law that [is] even more unconstitutional than the last."
"Instead of going after illegal firearms possessed by criminals, what my opponent—who used to be, by the way, when it was politically convenient, an A-rated NRA endorsed member of Congress—she goes after the law-abiding New Yorkers," he said.
It remains to be seen if Hochul's strategy of tying gun control to public safety can successfully assuage the concerns of voters who have been drawn to Zeldin. Her strategy is one that many of the country's prominent gun-control groups, particularly Everytown for Gun Safety, hoped would catch on nationwide.
But it hasn't caught on with voters thus far, and there's no guarantee it will.
Democrats' registration advantage alone still makes Hochul the favorite to win. If she does manage to lose, it will represent a repudiation by voters of her pivot to go all-in on gun control.