Colorado has again expanded its gun regulations, but how effective has the decade-long push for more restrictions been?
Governor Jared Polis (D.) signed a package of four new gun-control bills into law last Friday. The signed bills include new three-day waiting periods for all gun sales, an expansion of who can file for an Extreme Risk Protection Order, a total ban on gun sales to those under 21, and a repeal of the state's gun industry liability shield against lawsuits for gun crimes committed by third parties.
"I was honored to sign these bills alongside the survivors of gun violence, advocates, and state lawmakers," Governor Polis said. "Together, we are working to make Colorado one of the 10 safest states in the nation and address this challenge."
A fifth bill that would ban the sale and possession of unserialized firearms and firearm components, referred to as "ghost guns" by advocates, has already cleared the state Senate and is expected to pass the House and get signed into law by Polis after the end of the legislative session next week. A sixth bill to allow county governments to ban shooting firearms on private property has also already cleared one chamber, though its path to the Governor's desk before the end of the session is less certain.
The bills together mark one of the most significant legislative sessions in years, but they continue a recent trend in the state. Since 2013, the once-purple state has adopted fourteen new gun-control laws, mainly in response to high-profile mass shootings in Colorado. That has made the state an outlier in state-level gun policy over the last decade and is, therefore, one of the gun-control movement's biggest political success stories.
"Colorado has many strong firearm laws and has made significant progress in its gun law strength in the years since the 2012 Aurora movie theater shooting," the gun control group Everytown for Gun Safety said of the Centennial State on its website.
The group currently ranks the state 12th in the nation in terms of "gun law strength." The gun-control group Giffords likewise gives Colorado high marks for its strict gun laws in the form of a "B" grade in its latest rankings (which does not include the four bills signed into law this session).
Given that the state's turn towards stricter gun laws has often responded directly to mass shootings and other violent crimes, it's worth evaluating how a decade of gun control has moved the needle on either front.
Colorado's Decade of Gun Control
The state's shift in gun policy began in earnest in 2013. Spurred by the 2012 Aurora theater shooting, lawmakers in Colorado passed a 15-round limit on ammunition magazines for sale and a requirement that background checks be conducted on private sales—referred to by proponents of the policy as universal background checks.
The passage of those laws sparked a political backlash against Democrats in the state. The magazine ban drove major magazine manufacturer Magpul Industries to move its headquarters to Texas and business operations to Wyoming from its previous locations in northern Colorado. Angry gun-rights supporters successfully recalled two Democratic state senators, including the Senate president. A third was forced to resign to avoid being recalled, and Democrats lost control of the state Senate the following year in the 2014 midterms.
That backlash chilled any further action on guns until 2019, when Democrats regained trifecta control of the state government. That year, lawmakers passed the state's Extreme Risk Protection Order or "red flag" law.
In 2021, state lawmakers passed their most extensive package of gun control laws to date. The bills included a mandatory safe storage law, a requirement that gun owners report lost or stolen firearms to law enforcement, and a requirement that persons subject to domestic abuse protection orders surrender their guns. Lawmakers also repealed the state's nearly two-decade-old law prohibiting local governments from enacting stricter gun laws than the state.
Several local governments have taken this new authority to pass even more restrictive laws, such as "assault weapons" and concealed carry bans.
Lawmakers also passed a bill in 2021 to close the so-called Charleston loophole, a provision under federal law that allows firearms to be transferred to buyers after three business days if the background check hasn't been completed in time. That same bill also added nearly a dozen misdemeanor offenses to the list of criteria that can block someone from being eligible to purchase or possess firearms under state law.
Finally, lawmakers passed a bill in 2022 to ban the open carry of firearms within 100 feet of a polling location or a vote-counting facility. That was the last gun control bill signed into law before the four additions signed this session.
Gun Crime Data Over the Same Period
According to the Colorado Bureau of Investigation's (CBI) crime statistics dashboard, violent crime, defined as "murder, non-consensual sex offenses, aggravated assault, and robbery," committed with a firearm, has steadily risen from 2013 through the beginning of 2023. In fact, 2022 was the worst year for violent crimes committed with a gun in a decade.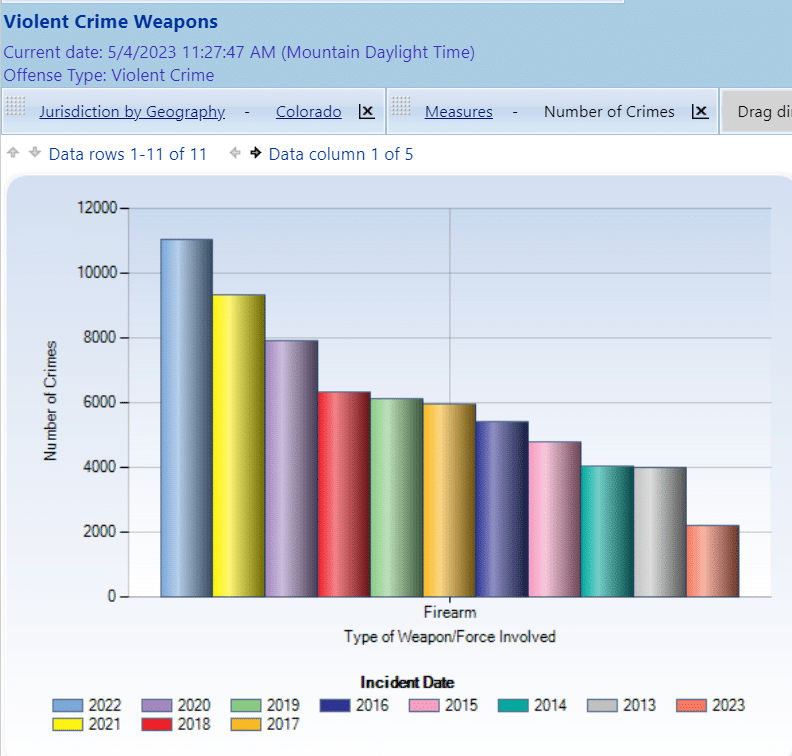 Gun-related suicides have not fared much better over the same period, though the most recent data made available by the Colorado Department of Public Health and Environment (CDPHE) only extends through 2021.
In 2013, 490 Coloradans committed suicide by firearm, according to CDPHE data. In 2021, that number was up to 740, and the total increased every year along the way, except for in 2017.
Adjusted for population, Colorado's firearm suicide rate rose from 9.29 per 100,000 people in 2013 to 12.73 in 2021. Meanwhile, though Colorado's non-firearm suicide rate has also gone up slightly since 2013, from a rate of 9.75 per 100,000 to 10.8 in 2021, it's actually on a multi-year decline since 2019. That means that despite the passage of numerous gun-control laws at least partially aimed at suicide, more Coloradans are using guns to kill themselves each year, even as fewer are doing so using other means.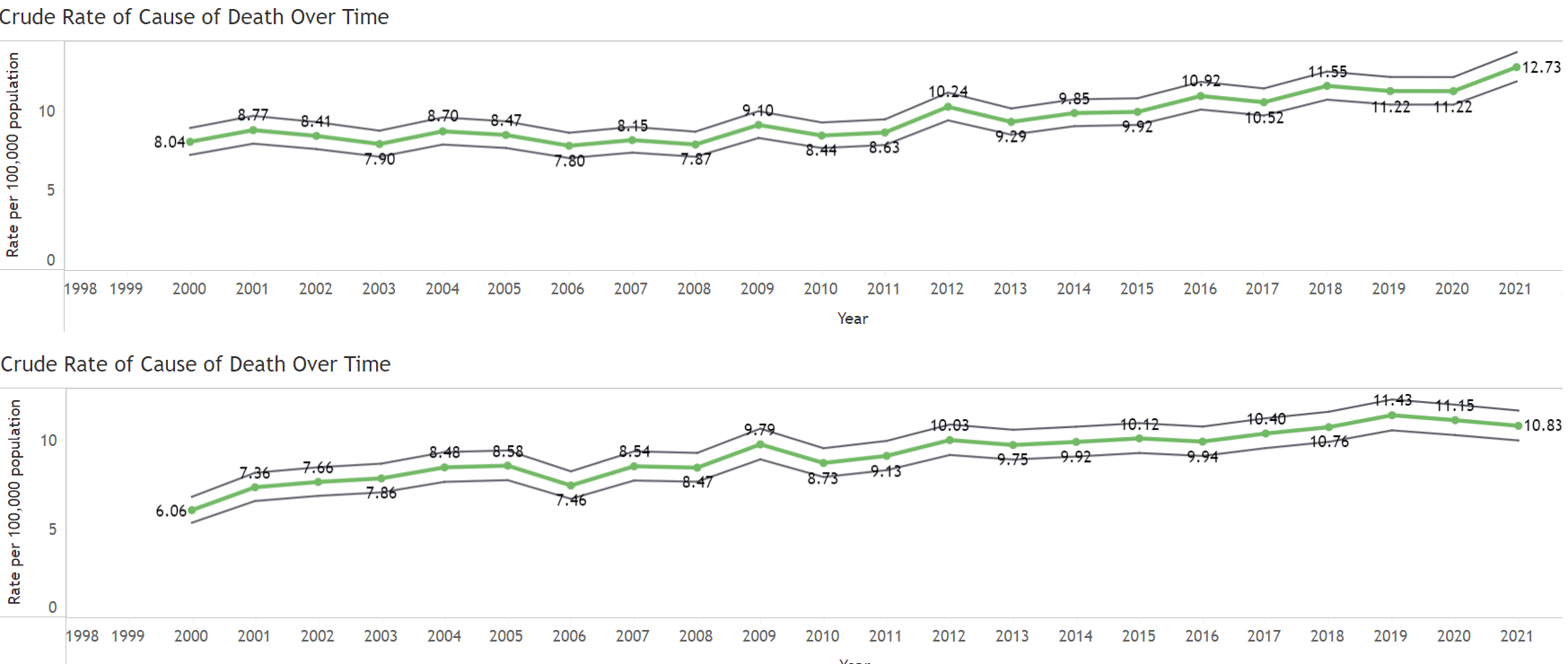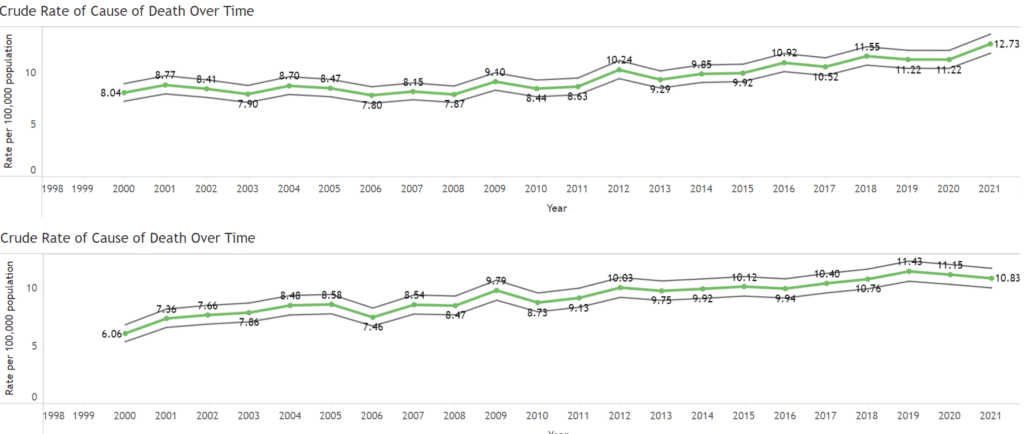 The state's firearm homicide rate saw a similar trajectory over the same period, more than doubling from 2.01 per 100,000 people to 4.71 people from 2013-2021.
Comparison with Neighboring States
A common argument to explain why certain states with strict gun laws still have increases in gun crime is that surrounding states with lax laws undermine the efforts of restrictive states. Indeed, Colorado is bordered on all sides by states with less stringent laws.
Everytown ranks the gun laws of New Mexico, Nebraska, Utah, Kansas, and Wyoming at 16th, 22nd, 36th, 37th, and 44th in the nation in terms of strength. The group ranks Colorado's laws as the 12th strongest.
Yet, despite this difference in gun laws, Colorado is firmly in the middle of the pack on gun-related homicide rates compared with its more lax neighbors, according to data from the Centers for Disease Control. While nearly all of the surrounding states have seen a similar upwards trajectory on gun homicides since 2013—except Nebraska, which has been statistically flat—Utah, Wyoming, and Nebraska all managed to have lower gun-related homicide rates despite maintaining, and in some cases loosening, their gun laws. Wyoming's gun homicides were too low to graph reliably.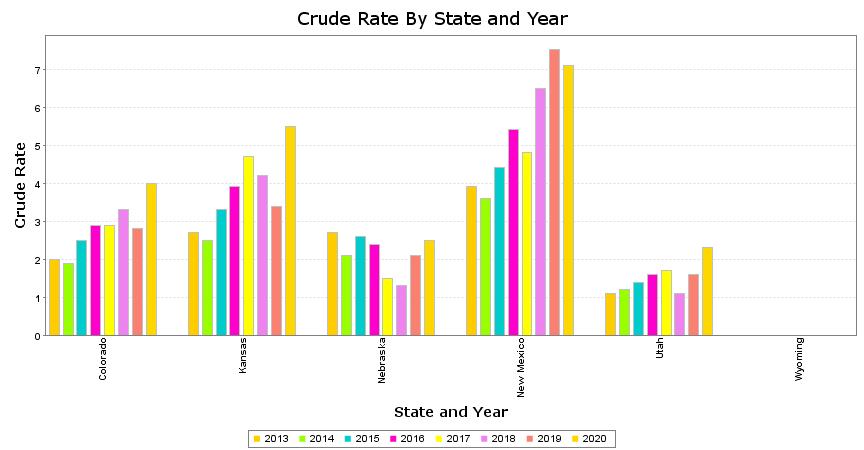 In terms of gun-related suicide rates, most of the surrounding states again saw increases since 2013 (except for Utah). But here, Colorado had a higher rate than its less-restrictive neighbors except for Wyoming and New Mexico, the latter of which has gun-control laws similar to those in Colorado.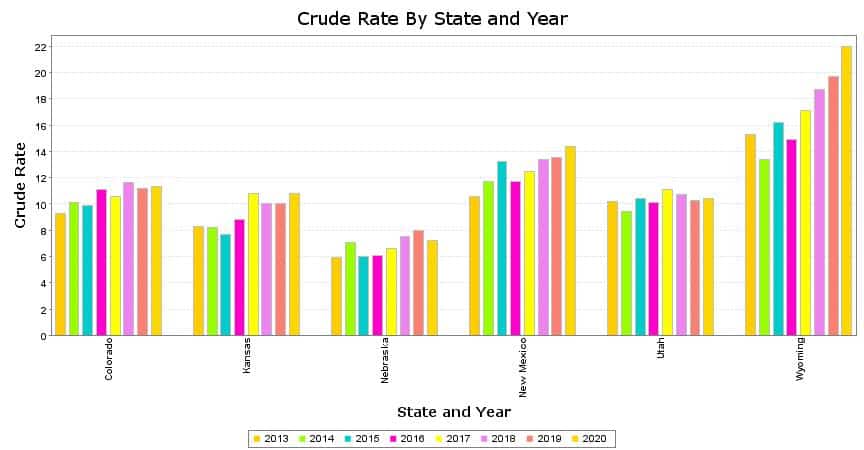 Mass Shootings
Mass shootings have been a particular focus in Colorado's political debate over guns. Tragically, the state has experienced more than its fair share of such incidents over the years.
Good data on mass shooting incidents can be challenging to come by, given that researchers in this space have no uniform definition of mass shooting. Some counts, such as The Gun Violence Archive, don't filter their data for crime-related events and include many events most Americans likely wouldn't recognize as mass shootings. Other counts filter their data for incidents that are crime-related or don't take place in public but disagree on where the cutoff should be regarding how many people were killed. They also vary on how far back their databases cover.
The Violence Project, which counts shootings where four or more victims are killed, dates back to 1966. Mother Jones, which counts shootings where three or more victims are killed, dates back to 1982. Both put Colorado near the top of their lists in terms of how frequently it has experienced mass shootings.
Mother Jones data shows Colorado has seen the fourth most mass shootings of any state. The count from The Violence Project shows Colorado has had the seventh-highest number of incidents and the third-most per capita.
But what about over the specific period in which gun control has been a significant state priority?
Mother Jones reports that since 2013, 598 Americans have been killed in mass shootings. Of those, 24 were killed in Colorado, meaning the state had roughly four percent of the nation's mass shooting deaths over the same period despite only representing around 1.8 percent of the country's population. Colorado, therefore, has had more than double the mass shooting deaths its share of the population would expect to see on average.
In terms of the frequency of such events, Colorado again has been unable to escape its overrepresentation among these horrific crimes in the Mother Jones count. The publication has tracked 80 mass shooting incidents since 2013, with five occurring in Colorado. That means Colorado was the site of 6.3% of all mass shootings since 2013, more than triple its share of the country's population.
Since 2021 alone, The Violence Project has documented three high-profile mass public shootings in Colorado. Only California, a state with more than six times the population, has seen more mass shootings in that count over the same period.
Of course, it's nearly impossible to evaluate the counterfactual. But for the passage of more than a dozen new gun restrictions, could Colorado's increase in violent gun crime and its experience with frequent mass shootings have been worse? Different points of view will likely come to different conclusions.
But it's clear a decade of new gun-control laws that have seen Colorado turn from a gun-friendly state to one with some of the strictest gun laws in the nation has failed to markedly arrest the trend of increasing violent crime, gun suicides, or the scourge of mass shootings.