A trend has begun to emerge in gun sales.
June saw 1.2 million gun sales. That's down from a year ago, but it's up from every other June on record. March and May told the exact same story. So did the second quarter overall.
It seems the United States may have found its new normal for gun sales.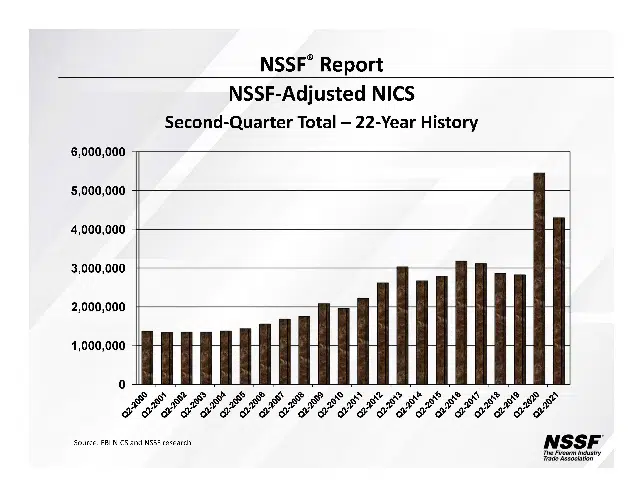 The recent 2021 numbers are down significantly from 2020's all-time record numbers, which makes sense. As the coronavirus swept the country, incredible uncertainty followed behind it. Mass layoffs, prisoner releases, lockdowns, and meat shortages drove Americans to the gun store at an all-time record rate.
June 2020 saw severe unrest sparked by the murder of George Floyd by Minneapolis police officer Derek Chauvin. Ultimately, that boiled over into nationwide rioting, which pushed the masses back to the gun store.
The election of President Joe Biden and his continued pursuit of restrictive new gun laws are likely helping keep demand for guns at an elevated level. However, with vaccination rates rising and the virus subsiding, it shouldn't be surprising that 2021 sales are not quite matching 2020 anymore. It's difficult to sustain an all-time record sales rate for more than a year and a half.
The fact the new normal is below the all-time records doesn't mean you should run out and sell your Smith & Wesson stock or expect the ammo shortage to let up anytime soon. In fact, this is exactly the result the industry expected.
"When coming off a new high the valley floor is always higher than before the spike," Larry Keane, senior vice president of the National Shooting Sports Foundation, told me.
And they're happy with the new normal because sales are still far beyond anything else we've seen before.
With the political situation unlikely to change significantly anytime soon, it's doubtful sales will fall below their second-best pace. If anything, politics are likely to drive sales up again soon. If President Biden follows through on his attempt to expand the ATF's power to regulate unfinished firearms or ban and register tens of millions of guns equipped with pistol braces, that will likely drive many to buy more guns before the hammer drops.
With deadlines for those two executive actions running out at the end of the summer, gun control will probably break back into the broader media landscape. More attention on new restrictions is likely to drive new interest in buying.
So, what will fall 2021 look like?
Last fall didn't have the nationwide rioting of the early summer, and Americans had already adjusted to the pandemic as best they could. The toilet paper and meat shortages had subsided. Many of the factors that drove the earlier gun-buying had waned. Even still, the all-time records carried on.
This fall will be on more of an even footing in terms of motivation. But Biden's gun-control moves could push it over the top. We've reached a new normal for now, but September or October could push things right back into record territory. That's the next big event to watch for.